Our Mission:
"Friendship and Camaraderie In and Out of the Water"
The Big Stick Surfing Association (aka BSSA or Big Stick) was formed in 1983 by a group of Santa Cruz surfers looking for both a social and community service club. Big Stick Surfing Association has evolved to also incorporate competitive surfing and hosting the annual Logjam! "old board, no cord" contest.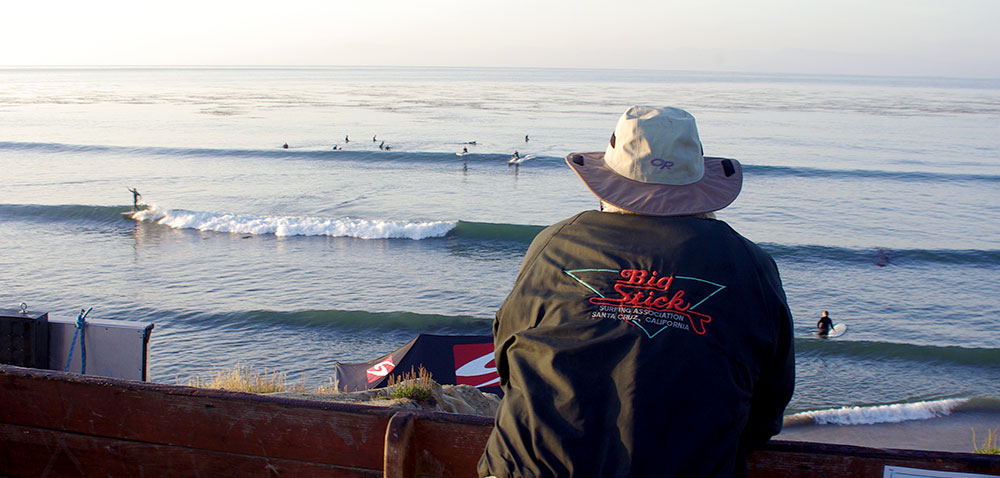 ---
Big Stick Presidents
Mike DeGregorio (1984-85)
Peter Ochs (1986)
Jim Lucas (1987-88)
Kyle Catterlin (1989-90)
Cy Lucas (1991)
Mike Young (1992-95)
Pete Ogilvie (1996-2000)


Bruce Arthur (2000)
Butch Colyear (2001-03)
Tom Radich (2004-05)
Gioni Pasquinelli (2006-07)
Kackie Cohen (2008-2011)
Jon Ford (2011-2016)
Michael Matkin (2016-Present)

---
Club History
July 1983
While waiting for a set wave at Cowells, Mike DeGregorio, surfing with buddy Cliff Ellyn, came up with a dream for a "surfing social club". Cliff's input was "why not have a community service aspect to the club, so that it respects the sea". This spirit is embodied in the Club motto/dedication: "Friendship and camaraderie in and out of the water."

Dec. 10, 1983
Once Mike D. developed the club mission, bylaws and all that necessary stuff, the first meeting of the Big Stick Surfing Association was held in Santa Cruz. Twenty-four (24) charter members were sworn in. This included four De Gregorios, the Ellyns, Peter Ogilvie, Gary Miles, Gary Silberstein, and Mike Watson. The club t-shirt was distributed to members with a newly designed Big Stick logo.


April 1984
First Club Photo taken at the Cowells stairs, which was accompanied by a head high swell.

November 7, 1987
At Zarks Restaurant in Santa Cruz, Big Sticks Jim Lucas, Ed Janesky and Ward Smith hatched the idea for a fun fundraiser, an old board, 'logger surf classic'.
---
April 29th, 1989
After several Club membership votes approving the event and its date and entrant number, and after a year and a half of planning, newly elected Contest Director Jim Lucas raised the curtain on the now legendary Big Stick Surfing Association Surf-O-Rama contest.

Early 1990 Marks the Big Stick Surfing Association marching team in the July 4th parade at Aptos and meetings at Krazy's Sports Bar in Aptos.

Many BSSA surfing surfaris took place in the '80s and early '90s to Jalama, Baja California, and Hawaii, many organized by Ward Smith.

Community service for Big Stick Surfing Association included regular highway cleanup in Aptos on Route 1, and support for the Big Stick Scholarship Fund started by Russ Beggs.

Although not formed as a competition driven surf club, contest directors such as Al Sehorn and Mike Young help make Big Stick's presence known at Coalition of Surf Club contests up and down California coast. This reaches an apex of 1998 and 1999 when Big Stick is fourth in annual ranking among all Coalition surf clubs and the team wins the Memorial Day Contest at Steamer Lane in Santa Cruz.
---
| | | | |
| --- | --- | --- | --- |
| 2001 After a dozen years of Surf-O-Rama, Big Stick renames the Old Board Contest as Big Stick Logjam! Past Old Board winners included such names as Wingnut (4 time winner), Joel Tudor, Bob Pearson, Jay Moriarity, Dane Perlee, and Michel Junod. | Big Stick Surfing Association mourns loss in the water in 2001 and 2002 of two of its great young surfers Jay Moriarity and Jeff "Govie" Plucy. | With summer beach parties, Big Stick continues to develop the family oriented social club. | In the spirit of camaraderie in and out of the water Big Stick Surfing Association at its home break at Pleasure Point has formed alliances with the Dirt Farm crew and the Pleasure Point Night Fighters. Also the Big Stick Surfing Association Christmas Holiday Scrimmage has evolved in the last several years into the early December "Gathering of the Tribes" fun contest and Holiday party with other Nor Cal longboard surf clubs. |